How To
How to Keep a Rabbit Hutch Cool in Summer?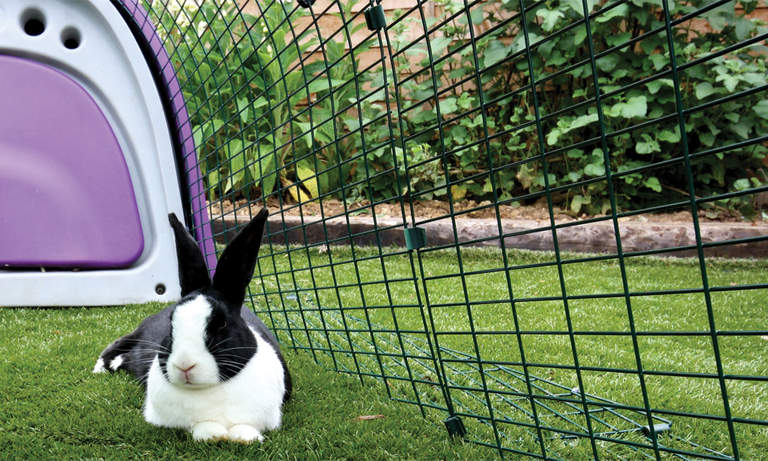 Here in this article, we are sharing 8 DIY methods about how to keep a rabbit hutch cool in summer?
Let us agree on one thing, whenever summer approaches animals are most affected. Especially when you own a rabbit the responsibility gets even higher.
But as a pet owner, you should find a solid and quick solution to keep a rabbit hutch cool. There is a possibility that if you keep rabbits outside in summer days they can eventually die due to overheating.
How to keep a rabbit hutch cool in summer? You can keep the rabbit hutch cool in summer by cover the hutch with a shade,  try to give the bunny a trim, use lots of greens, and also change the water regularly. 
Summer heat exhaustion is a serious issue for rabbits because they all come in different shapes and sizes particularly are overweight, fuzzy, young, and old are at risk. Each bunny responds differently and you need to monitor them on a daily basis.
This article can help you to understand what are the symptoms of overheating in rabbits? What is the ideal temperature of rabbits, how many ways you can utilize to make rabbits hutch cool in summer, and why you should choose this method in the first place?
How to keep a rabbit hutch cool in summer?
With summer coming and temperature rises, there are some important things you can do to help the bunny beat the heat. They are quite hard animals. If you like raising a rabbit then you don't need to knit a sweater for him.
Instead, you can do different ways which are beneficial if the temperature rises up to 90 degrees. Have a look at the rabbit cooling system.
Cover the hutch with a shade
If you own a rabbit indoor then you can position the rabbit cage away from sunlight. You can either put a shade on the hutch with trees or buildings to make a hutch cool in summer. You can use sun umbrellas, awnings, or sail shades to help keep the rabbit away from sunlight. This is the best way to prevent them and move the rabbit hutch to the garage or cold basement as well.
You can get some discount on a slopped roof rabbit hutch by using our affiliate link from Amazon. 
Try to give the bunny a trim
Another best way of how to keep a rabbit shed cold is to remove as much hair as you can, this will help him stay cool. You can begin grooming schedule to remove excessive hair from their body. A short hair would be the best summer fit hair cut for them.
Fill big 2-liter soda bottles
You can attempt to freeze two large bottles of water and give it to your rabbit so it can lean and keep their body cool. You can have stored a few bottles and keep rotating them inside and outside so he can get maximum coolness from it.
Provide rabbits with cool ceramic tiles
The ceramic tiles help to stay cool even in the warm conditions and it is a great way for rabbits to lie on and relax. What you need is to cover the entire lower part of the hutch with ceramic tiles. It will not keep cool but also super easy to clean. The rabbits will love it and will never come out of them hutch very soon.
Use lots of greens
You can provide your rabbit with plenty of fresh green veggies. First, you can wash them with cool water and then feed it to your rabbit. This will give him extra water and find solace at the time. Just keep doing it the whole summer and he will stay hydrated and healthy.
Change water regularly
If the water stays in sunlight for too long then it will begin to get hot obviously. But you need to keep changing the water many times in one day to keep it cool and fresh. You can also add some ice cubes in the water. Just keep an eye on the water levels and the rabbit won't get dehydrated.
Set up an air conditioner or a fan
If you don't want to fan blowing directly on rabbits, then you can set it side of the hutch so the air keeps coming. You can use an air conditioner inside, but outside you can use an inexpensive foam cooler.
You can use duct tape to open it and stick it with a side of a cage or hutch where the cold air can come out. This way is perfect for the outdoors.
Self-cooling small animals mat
This item will 100% turn the summer into cooling days for rabbits. It has the capability of covering more than 2 to 3 rabbits at a time. This is the best summer choice made with microstructure with the linear-based theme of fibers and elastic.
It allows giving more space and accommodating air, increasing the area of contact, and releasing heat to keep it cool for a longer time. Your rabbits will jump, flip, and will feel happy all the time. Our Amazon affiliate link can help you to get some percentage of discount on self colling mat for your rabbits. 
Summer self-cooling pet small animal mat features
There are many features you will absolutely love it because it comes with extra solace and unique material you will appreciate in so many ways.
Cozy pattern

provides natural feeling

ease and please

Fantastic corner mat for indoors

Natural polyester and fiber

Safe and comfy

Easy to wash and detachable

wash the surface with water or a wet towel

comes in three disinvite sizes

keeps rabbit energy high
Is it perfect for rabbits in the summertime?
Once you bought this item for your rabbit pet you will see that he will love it and you can help him stay cool even if you are not around. So go for it and make your bunny happy without actually making a DIY cooling mat of blocks.
What are the symptoms of overheating in rabbits?
When you raise rabbits then you must understand the temperature that can hurt them and you need to keep them cool. Rabbits have a thick fur coat and eat a lot because of that the calories they burn in a high level of torture can be dangerous for them.
If you keep them in wooden hutches and sheds outside then it can be extremely dangerous. So before you mourn over your dead bunny because of a little mistake you should learn about the overheating rabbit symptoms to get an idea of how to prevent it such as,
Hot Ears

Heatstroke

Lethargy and weakness

Confusion

salivating

panting

Convulsion

Wetness around nose

Shallow breathing

tossing head back rapidly
What is the ideal temperature of rabbits to live?
There are many chances that when if suspect your rabbit is suffering from overheating problems and then never to put the cold water as it will result in fatal shock. Instead, you can go for a different approach by cleaning their ears and fur with cold water.
Rabbits in hutch find a difficult time in summer but it is up to you to make an adjustment and put them in a lower temperature of 40 degrees F.
It is the ideal temperature you rabbit may survive the whole summer by staying cool in hutch. Furthermore, you can also wet the wooden hutch just to give him cool flooring as well.
Conclusion:
These are some real facts to keep a hutch cool in summer; as you need to make some adjustments to keep them happy and excited. These above-mentioned ways are tested and work, so better start implementing them right now.
Related Articles: