Lionhead rabbits are known for their long, wooly mane, which is reminiscent of a lion's mane.
They come in a variety of colors. They can have a wispy single mane or a full double mane.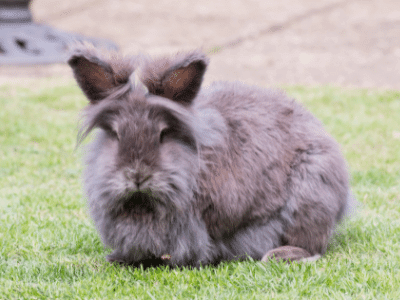 These rabbits are very attractive, very friendly, and very well-mannered. They make great pets for people of all ages.
And they are small.
How Big Do Lionhead Rabbits Get?
Your Lionhead rabbit will only weigh 3 pounds (1350 grams) as a full-grown adult . Lionhead rabbits are only 8 to 10 inches (20 to 25 cm) long. (Their ears will be less than 3 inches (77 mm) long.
Lionhead rabbits were bred from dwarf breeds and never get very big, although they don't necessarily look small.
That's because of the Lionhead rabbit's mane. The mane is a minimum of 2 inches (5 cm) long, and it forms a circle all the way around the head.
Some Lionhead rabbits will display a V-shaped extension of their mane along the neck and back, and others will have longer hair on their chests.
There are Lionhead rabbits that will grow a cap of hair on their heads that makes them look just a little taller.
A Lionhead's coat fluffs up to 2 or 3 inches (50 to 78 mm) in length. But no Lionhead rabbit ever is expected to weigh more than 3 pounds (1350 grams),
The petite frame of Lionhead rabbits requires special care to keep them safe. In the rest of this article, we will discuss how to keep this little bunny happy and healthy.
Lionhead Rabbits Need to be Kept in Pairs/Trios
Living alone is very stressful for a Lionhead rabbit. It is under constant threat from aggressive pets, and it never really gets to rest if it is kept alone in an outdoor hutch.
Bonded Lionhead rabbits, especially if they have been spayed or neutered, are always happier with one or two companions.
If you have never kept Lionhead rabbits before, you may want to start with a single, bonded pair.
You can get bonded Lionhead rabbits from the same litter, that is, brothers and/or sisters that were born at the same time.
If you are keeping your Lionhead indoors, it will get enough attention from its human family to stay happy most of the time.
But if you are planning for your Lionhead rabbits to live outdoors, they really need one or two companions to keep from getting lonely and to feel safe from predators.
Lionhead Rabbits May Not be Compatible with Other Pets
When your Lionhead bunny is just learning how to hop, even the best-behaved cat may look at it and think "Lunch!"
Even a well-mannered dog's hunting instincts may come out when he sees the quick movements of your Lionhead rabbit.
Lionhead rabbits need supervision whenever they are in the same room or yard as dogs or cats, and there are no circumstances where they should ever be kept in the same enclosure as snakes.
Ferrets and Lionhead rabbits are an especially bad combination. Ferrets naturally regard small rabbits as prey.
They can attack your Lionhead and do serious damage.
Lionhead rabbits are safe in the same room with fish in an aquarium, as long as they don't chew through any electrical cords.
Choosing Your Lionhead Rabbit's Cage
As smaller rabbits, Lionheads do well in smaller cages. Any rabbit needs a cage that is about four times as long as it is.
Even the largest Lionhead will only be about 10 inches (25 cm) long, so a cage that is 40 inches (1 meter) in length is long enough.
Your Lionhead rabbit's cage needs to be wide enough she can stretch out completely. One foot (30 cm) wide is sufficient.
And your rabbit's cage should be tall enough that she can stand up on her hind legs to beg or to survey the world outside her enclosure.
A height of 18 inches (45 cm) is adequate.
Bigger is always better. You can get more advice from your local pet store.
Little Rabbits Do Better in Indoor Homes
Should you keep your Lionhead rabbit indoors in a cage or outdoors in a hutch?
Let's consider the pros and cons of both kinds of enclosures.
Pros of keeping Lionhead Rabbits Indoors
Cons of keeping Lionhead Rabbits Indoors
Pros of keeping Lionhead Rabbits Outdoors
Cons of keeping Lionhead Rabbits Outdoors
Lionhead Rabbits are the Perfect Size for a Rabbit Run
One of the benefits of a Lionhead rabbit's small size is that it is easy to build them a rabbit run, the rabbit's equivalent of a dog park.
Rabbits love safe, secure playtime outside their hutches and cages.
A rabbit run for Lionhead rabbits doesn't have to be very large.
As little as 6 feet by 4 feet by 2 feet (1.8 meters by 1.2 meters by 0.5 meters) is a great size for giving Lionhead rabbits space to play, to hide, and to bond with each other.
Other articles you may also like: